Selling REO Properties in Metro Atlanta
---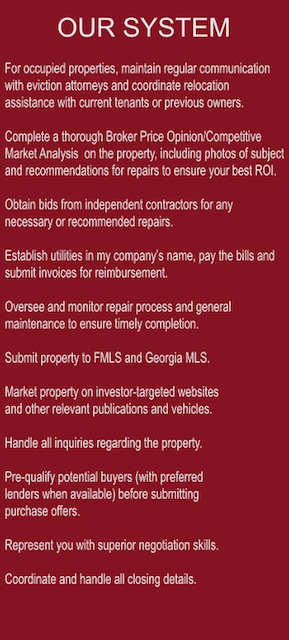 As a Native Atlantan with 23 years of sales experience in the Metro Atlanta area, I have gained the vital knowledge and expertise it takes to position, market and close homes, while consistently outperforming my competitors. 

Particularly in the past 13 years, my focus has been marketing and selling bank and institutionally owned (REO) properties. Over the most recent years, Rick Hale & Associates closes over 500 transactions per year, nearly 90% involving REO properties. Of the thousands of REO properties we evaluate and/or market, we manage the repair process and quality control of over half. 

I am proud to say that my team has successfully developed an efficient system to manage such properties, allowing us to provide world class professional service to our clients while consistently superseding time and price expectations. Throughout this process, we place utmost importance on liability control and property preservation.
Our Commitment
Our team will deliver unparalleled personal service to your organization while holding ourselves to the highest ethical standards in the pursuit of the superior results you expect. We provide thorough research skills, market knowledge and consistent reporting, coupled with industry-leading marketing and salesmanship. Given the opportunity to serve in the REO Management sector of your business, our concurrent commitment will lie in the overall interest of your organization, as we will strategize to create additional business opportunities via proactive exposure to your unique programs and services. We will work exhaustively to cross market available homes to ensure maximum exposure to your organization. We strive to make choosing us as your Georgia REO Specialist Team easy the first time, and obvious every opportunity thereafter.
Current & Past Clients
AMC, American Home Mortgage Servicing, Aztec Financial, BA Disposition Solutions, Bank of America, Bank of North Georgia, Chase Home Finance, Chevy Chase Bank, Chrisley Asset Management, CitiResidential, Coldwell Banker Residential, Countrywide Home Mortgage, Dandrew Strategies, EMC Mortgage Corporation, Equity Pointe Asset Services, Executive Asset Management, Fannie Mae, First American REO Servicing, First Federal of Charleston, First Option Asset Management Services, First Preston, Freddie Mac, Georgia Commerce Bank, GMAC, Goodman Dean, Green Point Mortgage, Green River Capital, IAS, Land America Default Services, Lighthouse Real Estate Solutions, MetroCities Mortgage, MorEquity/American General Finance, Option One, Phoenix Asset Management, PMH Financial, REO Management Services, Premiere Asset Services, Regions Mortgage, REO Management Services, Single Source Property Solutions, US Real Estate Services, Washington Mutual, Wells Fargo Home Mortgage, Wilmington Finance
OUR TEAM
With my leadership and guidance, my support team successfully executes our system as follows:

Davin Gastwirth, REO Listing Manager
Compiles detailed BPO upon thorough evaluation of REO properties. Recommends repairs to ensure best ROI. Monitors process from obtaining competitive bids to completion of work. Develops and grows business relationships with REO clients.


Mark Fields, Field Supervisor
Assists REO Specialist to ensure that all properties are maintained and repaired as contracted and have appropriate signage and security. Responds to emergency situations that likely occur in vacant properties in our market. Performs weekly property inspections.








Amber Gastwirth, Marketing & Business Manager
Submits listing to FMLS and Georgia MLS. Markets properties directly to investors through investor-targeted websites and e-mail distribution, as well as to all home buyers through various websites, flyers and other appropriate publications. Performs accounting and bookkeeping functions related to properties. Seeks opportunities to grow and obtain new REO business relationships.







Darcy Watts, Transaction Manager
Pre-qualifies potential buyers before submitting purchase offers. Coordinates and handles all closing details, including fulfillment of contingencies to ensure on-time success. Recommends best practice for negotiations based on 10 years of REO contract experience.








Connie Spaziano, Billing & Property Preservation Specialist
Establishes utilities for all assets in our company's name. Monitors on-going and emergency repairs with vendors. Follows billing procedures as required by client (i.e. submits invoices for reimbursement for utility/repair bills).









Donna LaRoche, Director of First Impressions
Handles all incoming inquiries regarding our properties. Assigns potential buyer leads to our Real Estate Consultants. Communicates with tenants to arrange Relocation Assistance. Supports team in all aspects of REO process.









Joel Madden, Real Estate Consultant
Converts potential leads to buyers of our REO assets. Handles purchases for investors and buyers of REO properties.









---
A Proven Track Record
#1 Sales Agent Team in Southeast Region for Keller Williams Realty
Ranked in Top 100 among Keller Williams Realty agents worldwide
Top 10 Sales Agent Team for Atlanta Board of Realtors 2004-2012
In 2012 alone, closed 514 transactions, 90% involving REO properties


---
Memberships
REOMAC
National REO Brokers Association (NRBA)
National Association of Realtors (NAR)
Keller Williams Realty REO Mastermind Group
Institute for Luxury Home Marketing
Atlanta Board of Realtors
Georgia Multiple Listing Service
First Multiple Listing Service

---